3 Ways To Find New Window Covering Customers For FREE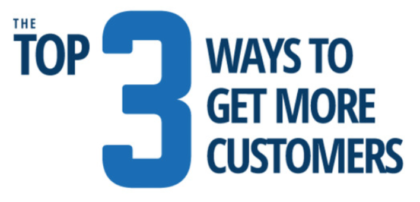 Every day window covering dealers ask me how they can generate more high quality leads for free. I know of 3 ways to do just that:
Telemarketing

Email Marketing

Door Knocking
My personal preference is Email Marketing combined with door knocking on new homes. It's effective, simple, and duplicatable. Email Marketing works very well if you can keep your emails engaging and helpful. Combine that with some door knocking and you should have a nice flow of new customers.
You may be wondering exactly who do you email? I like to include other businesses that can refer me new clients like realtors, window replacement contractors, interior designers, and contractors. I also have a 2nd list of past and present clients who may be needing additional products or know a friend or neighbor who could use new window coverings. So what type of content should you produce to keep others informed? Here's my formula to generate a list of blog ideas.
Make a list of the top 10 questions your clients ask you.

Make a list of the top 10 worst questions clients ask you.

Make a list of the top 10 questions clients SHOULD ask you.
Each question is now turned into a posting. Now you have 30 blog postings. I like to keep my postings to about 300-400 words. One mailing per week and you now have 6 months of content. You can do this yourself or hire it out using Fiverr or Upwork. I like doing it myself and using a professional editor.
Pro Tip: Make your emails look great. You can do this in MailChimp or Constant Contact. They each have email templates that are very simple to use. I have a branded template that I use every week, which I had built on Fiverr.com.
Now, what do you say in these emails?
The headline needs to be relevant to their business and not spammy. Use headlines like: "What's the difference between a drape and a curtain?" Or, "do people still buy mini blinds?" "How not to purchase out of style products for your windows." Or, "What's the safest window covering for children and pets?" Asking a simple question will get the prospect's attention.
The goal is to educate and inform the customer. Why would a realtor, a window replacement contractor, or designer need to know if mini blinds are still in style or how much plantation shutters cost? Simply put, their clients may ask them for their advice. The better informed they are, the better chance of closing a deal. This is why I like to keep the email short and to the point.
Once I write the blog posting, I post on my site, and in the email I use a bit of teaser text and a link to my site and the complete blog posting. Using MailChimp, I'm able to see how many people opened my email and how many people visited my site to complete the reading of the posting. This is how I know which headlines work best.
If you are looking for marketing services for window covering retailers, please call ExSeed Marketing at 949-768-6695 or click here to fill out our online request form