Why Every Window Covering Retailer Needs A New Website With SEO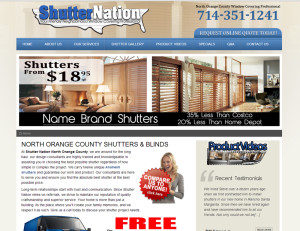 Attention all window covering retailers! Are you tired of standing on the sidelines watching your competitors rake in customers online? Are you ready to step up and dominate the virtual world of window treatment sales? Well, it's time to get with the times and invest in a new website and SEO!
Let's face it, the days of customers solely relying on print ads and window displays are long gone. Nowadays, people turn to Google for everything, including finding the perfect window coverings. Without a strong online presence, your business is bound to blend into the endless sea of search results. With a new site and continuous SEO, new customers can find you.
With SEO, you can boost your website's ranking on search engines like Google and reach potential new customers in droves. By using the right keywords, creating quality content, and optimizing your website's design, you can attract more traffic to your site and ultimately increase your sales. Today's sites are more about buyers' intentions and require a unique strategy to attract new customers.
Plus, SEO is a cost-effective marketing strategy that yields long-lasting results. Unlike traditional advertising methods that require constant upkeep, a well-executed SEO plan can continue to benefit your business for years to come.
If you are looking for marketing services for window covering retailers, please call ExSeed Marketing at 949-768-6695 or click here to fill out our online request form