What we can learn from Formula One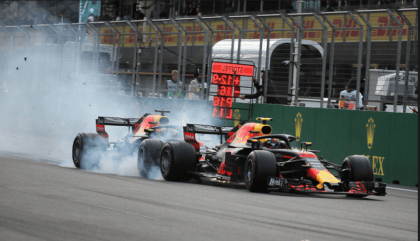 This past weekend at the Azerbaijan F1 Grand Prix race a simple rear-ending accident occurred that will likely cost the Red Bull team an estimated $30 Million Dollars. As a fan of F1, anyone watching the race could have predicted this from the beginning. Teammates Max Verstappen (20 years old) and Daniel Ricciardo (28 years old) were battling it out like a couple of schoolyard bullies. It was fantastic to watch! Unfortunately, they took it too far when Riccardo rear-ended Verstappen with just 11 laps to go. It's been ruled that it was both of their faults. Verstappen for overly protecting his lead and Riccardo for failing to stop quickly enough.
The team owner made a very interesting demand of the drivers. He wanted them to apologize to the members of the Red Bull F1 team for their actions and the disappointment they cause over 800+ team members. I guess this is why he is a Billionaire and I'm not.
Why am I jibber-jabbing about F1? Does your company have a Company Philosophy? The Red Bull team philosophy is " We Always Let The Drivers Race". Mercedes is "Best Team Wins. Best Driver Wins. In That Order". and Ferrari team philosophy is "Racing Is In Our DNA"
Do you have a company philosophy? I do, Mine is "Helping Others Succeed".
Every decision I make is based on this one philosophy. I've used it for over 22 years to build 3 successful companies.
I encourage you to take the time and build your business using proven techniques. I used the E Myth Revisited but you can use any system you like.
It's amazing what happens to your thinking when you have an overall philosophy to reinforce everything you do. A better-focused company will be more profitable and attract new customers and employees because they can see you stand for something.
If you are looking for marketing services for window covering retailers, please call ExSeed Marketing at 949-768-6695 or click here to fill out our online request form